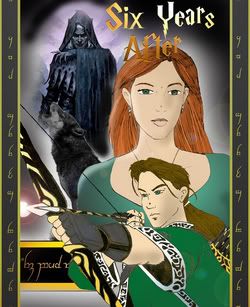 Thanks for the wonderful coverart Erwan!!
*looks up from writing table*

Oh... hello. What are you doing here? You are here for my story? You mean that people are actually interested in this sequel? Well that is nice to know.

Well, just in case, if you are not familiar with Yannick Silverleaf, I strongly suggest that you go and read Discovery for a New Student first. You can find it here. I say this because I strongly doubt you will be able to understand this story without reading it, as most of the characters in this story have been introduced in the previous one.

Most, but not all... does that mean that you are about to see some new faces? Perhaps... I won't say more as I want to enjoy surprising you a bit.


Also to now, my work is using the Harry Potter timeline of Entropist, the talented writer that brought you the fics: "Magical Jam", "The Seal of Chaos" and the Atlantean Triology. You will find references of events from his fics in mine and, while it is not a requirement, I strongly recommend you to read his fics as well as they are definitely worth it.

Alright... enough with the talk. How about getting to the story huh?


*Grins and goes back onto writing*

Disclaimer: This story is taking place in an alternate time line. It was started before HPB came out and so the events of that book never happened in this story and never will. Alternate Universe. This timeline was created by Entropist and I use it with his agreement.
Prologue: Black against White
--------------------------------------
Darkness has fallen on the forest. The sun gives its place to the moon and stars and slowly, animals of the night start to fill the night with their sounds and song. A tree stands in a clearing, its bark reflecting the moonlight where some sap is exuding from a recent cut. A small shape is seen moving at the tree's base, attracted by the insects that feast upon the wounded tree. Long snout with highly sensible whiskers, the vole is a deadly predator for them. The air is dry from the summer, the ground is dry and the worms, its favorite food, are burrowed deep in it and out of reach. Raising its head the vole looks upon the best way to reach what it has now decided will be its meal for the night.
A rush of wind, a shadow falls from a nearby branch. Deadly talons catch the rodent who realizes the danger when it is already too late. Reaching another perch, the owl gives its prey the killing blow with its beak. Second kill of the night, the first went to the fledglings, but the hunter must also cater to its own needs if he wants to be successful tonight. The owl feasts on its kill, its plumed ears still moving to pay attention to the sounds nearby.
A snap of a twig, the owl looks up its golden eyes alert. Movement, a tall form appears in the clearing, moving without a sound. The owl hoots, a warning that he will not give its kill away, the form stops, its slender hands reaching a hood and pulling it back, uncovering long silvery hair. The place is near, she knows it. Being in accord with the nature of the forest she felt it die. Why would one kill such innocent creature?
Her eyes dart around the clearing, trying to find the fallen form. Nothing. She then sees it, some pure white hairs coming out of a tall bush. She moves quickly to the spot, fearing what she knows is there already. Parting the branches her eyes meet with the fallen creature. Spotless white body of a horse and long slender horn on its head, the unicorn lies on the ground, dead.
She sighs. This is the second kill in as many weeks. The first was a foal, but tonight it is an adult. A bit of comfort fills her when she realizes that the death came as a surprise and that the pain was very brief. She suddenly realizes that the kills are not aimless. Someone is trying to bring her out. Someone who knows her link with nature and how much she cares for every single animal in this forest. Someone who vies for what she is safe-keeper of. Someone who is watching her from the tree in the clearing.
Wand in hand she turns around, knowing already that he is there. Her eyes meet with his. He is looking at her, his shoulder against the tree's trunk. Even in the darkness she can make out a satisfied sneer on his face. Him that used to be so protective of life before, how could he change so much? She knows the answer and his acts have proven that he is beyond help.
"Is that all you can think of to confront me?" she asks, her voice cutting through the night. "Killing creatures that are the embodiment of innocence and wisdom?"
He does not answer, but she sees him bowing his head with a little smile, an evil smile.
"You are despicable," she continues, disgusted by his lack of remorse. "You should have no rights to enter this sacred forest."
"You know what I want, blood traitor," he replies. "My acts will continue until you give me what is rightfully mine."
"It was never yours," she shoots back, "Nor will it ever be, you are not worthy it."
"You talk about worth? You? The shame of our race?"
"And what are you?" she shoots back, "The perfect example?"
"You married him," he accuses.
"I married him out of love," she replies, "You wanted to marry me for power."
"They are lower than us," he says, "We were created to rule them."
"I had always hoped that we could somehow bring you back to reason," she says, sadly. "I now see that it is impossible."
"You do not know me," he starts.
"You do not know yourself," she cuts him harshly, "Have you forgotten all you learned? Forgotten the sacredness of life itself?"
"Do not speak to me about sacredness, you wench," he says, taking a step towards her.
"Come any closer and I will be forced to harm you," she warns, her wand coming in view.
"You cannot harm me," he laughs, "I am much more powerful than you are."
"Your certainty in your power is your weakness," she says.
"Your love for lesser beings is yours," he shoots back, "Now tell me where you hid them."
"You will never get your hands on them while I breathe," she answers.
"Very well," he says, "If you wont tell it willingly, I will make you tell it in pain. CRUCIO!" he roars, slashing the air with his wand.
The spell's energy speeds through the air towards her. A muttered incantation and a twirl of her wand, something invisible forms in front of her, blocks the curse and disperses its energy.
"I am warning you," she says, bringing her wand at the ready again, "do not force me to hurt you."
Another shouted incantation, another spell flies thought the air, only to be stopped again by shield of air. This time retaliation comes and a silvery orb speeds towards her attacker, causing him to shield himself and putting him on the defensive. He cannot win, she knows it, but he needs to realize it. Lightning erupts from his wand, again being blocked by the powerful shield spell she now casts for the third time.
The duel continues, the two adversaries sending spells at each other. He is frustrated. She should not be so powerful. He thinks quickly for a better spell while he deflects her counterattack. Yes, this spell should do the trick. Making a cross sign with his wand he utters the powerful incantation. A beam of red light flies towards her. She knows the spell, a very hard one to defend. A quick motion of her wand and the shield is up again, blocking the spell just barely. The strength of it sends her to hit a tree truck behind. Pain shoots through her back and she muffles a cry of pain.
"You cannot prevent it," he laughs, "It is only a matter of time before I prevail, and I have that time."
She smiles faintly. "Not tonight," she says, "time is something that you do not have."
Sound can be heard in the distance. Running, shouting. She smiles, support will be here very soon, much sooner than he expected. The moonlight reflects his angry face.
"You win tonight, wench," he says, "But know that I know of other ways to make you give me what is mine by right." he adds, before disapparating.
She relaxes, he is gone, but for how long? The question comes at her while she pockets her white wand. So much fighting, for so long. Will it ever end? She turns in the direction of the sounds. They'll be here very shortly. A silvery form appears near her.
"You did not tell me that you were going out alone," it says.
"I did not really believed that he would be that bold," she answers.
"Are you alright?" it asks.
"I am," she says, "Apart from a bruised back." she adds.
"That can easily be fixed," the shape says, "I just wish I could have done something to help you."
"You could not have, you know that," she says gently, facing the shape, "This was part of the bargain so you could stay."
The shape sighs, the others will be here in a minute. "Does his return mean what I think it means?" it asks.
"Yes," she answers sadly, turning to meet the men who have appeared in the clearing, "It is time," she adds, "And I can only hope that they had enough time."
"Why do I have the feeling that history is repeating itself?" the shape asks.
"Because in a way it is, Love," she answers, "But this time the outcome might very well be different."
*-*-*-*-*-*-*
Okay... the way this prologue was written might have baffled some of you at the start and to tell you the truth I have no idea why I wrote it this way... just felt like it. I guess it makes it more mys:D

Have no fear though... the chapters that follow are written in my usual style.

Next: Chapter One: Morning memories.