Ok... I thought that I would try my hand at fanfic in the Harry Potter world. This is not my first try in fanfic, but it is the first one I make in the HP world.

Setting takes place after book 5 as Hogwart is begining a new school year. The main character of this fic is my own creation so please ask me before you use him (woops! gave a clue out here...
). Some of the characters in this story have been created by JKR and are her own.

I'd apreciate constructive critisism as to how I can improve this story.

Disclaimer: This story is taking place in an alternate time line. It was started before HPB came out and so the events of that book never happened in this story and never will. Alternate Universe. This timeline was created by Entropist and I use it with his agreement.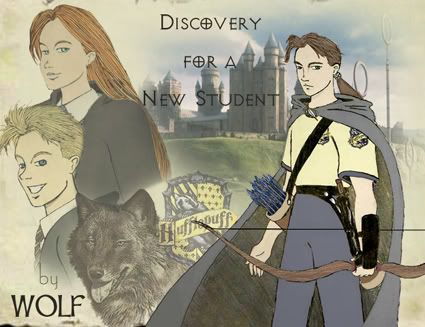 *-*-*-*-*-*-*-*-*-*-*-*-*-*
Chapter 1: Green eyes
-----------------------------
It was start of term for the students of Hogwarts, the wizard school of England, and children of all years were pushing their trolleys, going inside wagons or saying goodbye to their parents. It was the start of yet another school year but this one had a more darker tome to it. The Dark Lord had been confirmed as returned the previous year and while he had been defeated in his attempt to secure a powerful weapon then, he was not gone and the wizard world was again in fear. Most of the students knew this of course but they also knew that Hogwarts was possibly the safest place to be for the moment. It's headmaster was Albus Dumbledore, one of, if not the most powerful wizard of the world and it was known that the Dark Lord would not risk an attack on it if he was not at full strength.
In one of the compartments of the train sat a young boy of 17. His was still alone there, having arrived an hour early. He had a fair face. His long light brown hair were tied in a ponytail that reached his shoulders and had several silver streaks in it. He was dressed in a normal Muggle clothing but had a gray wizard cloak around him that held with a sliver leaf brooch which his left hand was absent mindedly tapping. His deep green eyes were lost in thoughts, looking out of the compartment window, his chin resting in the palm of his right hand.
He was not an English kid, at least not yet. His parents had been called from France by the English Ministry of Magic. His father was a renown wizard that had a knack with plants and knowing what they needed, which is why he had moved to France 30 years before to take care of dying magical forest there. His mother was an expert healer and had immediately found a job a St Mungo's hospital. He thus had to go with them and leave his French wizard school and had been accepted as a 6th year student in Hogwarts. "I'll never get a hang of this country" He thought "Everything is so different! They drive on the wrong side of the road the whole time. I almost got run over three times on my way to the station... I need to remember to look on the right when I cross a street." He was so deep on thinking to himself of the differences between his him and this new country that he did not hear the compartment door opening and the small knock on it that wanted to attract his attention.
"Excuse me?" a small voice said "Is this compartment fully occupied?"
The boy turned around, startled. A young girl of perhaps 14 was standing in the doorway.
"Huh? Oh, sorry! I was somewhere else completely!" He said hurriedly "Apart from my seat, this compartment is fully free and can be used."
"Oh good!" The young girl smiled and came in pulling her trunk behind her.
Seeing the size of the trunk, the boy stood up and helped her putting it in the overhead rack.
"Thank you." She said, sitting down in the seat in front of his. "I am Eleanor Swift. 3rd year Ravenclaw at Hogwarts." She added, extending her hand.
"Yannick Silverleaf." He responded, taking her hand and giving it a gentle and polite shake. "starting 6th year a a student at Hogwarts."
"6th year?" she asked arching one of her black eyebrow. "That is odd, I don't recall seeing you before in Hogwarts."
"That is because my parents just moved to England. I was schooled in Morbihan's School of Wizardry, in the French region of Britanny before. I am starting this year at Hogwarts."
"Ooooh... that sounds fascinating. How is it down there? What sort of magical arts do you learn?"
And the conversation was started between both, he telling her of his wizard school in France an her explaining how Hogwarts was and what to expect.
As they talked several other Ravenclaw 3rd years came in the compartment and Eleanor introduced them to Yannick. He continued answering the questions asked to him about his school and learned more from Hogwarts and how the teachers were there. They warned him about a certain Snape, who taught potion in Hogwarts and as they described him, Yannick started to compare this Snape to two of the professors of his own school. Good laughs were exchanged during the entire journey to Hogwarts as they played several games wizard games, and where Yannick discovered that he was not as good as he thought at wizard chess, being beaten thrice in a row by a young boy with raven hair. Still, he enjoyed his time and was surprised when he heard the voice in the corridor announcing the arrival to Hogwarts in 10 minutes. They all changed to their house robes, except Yannick, who not knowing which house he would be put into, decided to stay in the clothes he was wearing. On his way out of the compartment he took a long green bag with him.
"You don't need to take your things with you" one of the Ravenclaws that had been in the same compartment told him "They get sent straight to your room in Hogwarts and you will find them there when you arrive."
"Oh, its alright" He answered "I usually do not let this bag around when I travel. Family heirloom of some sort." he added.
The Ravenclaw nodded at the answer
"No problem then, see you at the feast. I wonder in which house you will go... Hopefully not in Slytherin" He added with a wink and then left.
Yannick stepped out of the compartment and followed the flow of students out of the train and towards the waiting horse carriages of Hogwarts. We he saw them at first he thought of a practical joke being played, seeing the carriages waiting for the students but having no horses to pull them. Although he finally decided that it was not a joke when he saw the students going in them without saying anything. "I'll have to send an Owl on this to my friends back home." he though "This is a funny experience, to say the least." The carriages continued their horse-less travel until they arrive to the Hogwarts castle.
The castle itself was impressive by its own size. Yannick stood there, looking at it gaping, oblivious to the amuse looks and snide remarks this behavior earned him from the other Hogwarts students. He was shaken out of his wonder by a stern voice.
"Mr. Silverleaf?"
He turned to face an witch in her late years. She had her brownish-gray hair tied in a bun and was wearing a deep Burgundy wizard robe.
"I am professor McGonagall," she continued, seeing that she had his attention "the assistant Headmistress of this school and head of the Gryffindor house. The headmaster, Albus Dumbledore, would like to see you before the welcome feast begins. I you will please follow me."
She led him through the hall of the castle and took several turns in different corridors until they arrived in front of a gargoyle-like statue. There the professor spoke a password and the gargoyle statue started going upwards, revealing a circular staircase as it went up. Yannick followed the professor as she went up the stairs and they then entered into a circular room. Most prominent in the room was the desk of the headmaster, who however was not sitting at it at the moment. In fact as Yannick looked through the room, he could not see him in the room either.
"Ah! Our new 6th year student." a calm voice said.
He turned towards the voice to see the man he recognized as Albus Dumbledore, going down the steps from a room that was apparently his study.
"I trust your travel has been pleasant, I hear that Ravenclaws can be very good company if you want to talk" He added with a twinkle in his eyes, looking slightly amused at the surprised expression on Yannick's face from this comment.
"Do not worry Mr. Silverleaf, there is little that happens around here that I do not know and this includes the Hogwarts Express." Dumbledore sat at his desk "Now, this will not take long so do not bother to sit down. I have with me a recommendation letter from you former Headmaster, Mr Petti...boy? Is that right?"
"Mr Petitbois, sir" Yannick answered.
"Ah yes! That's right. He says that you took your OWL exams last year and that you achieved either O or E in all except in two fields out of seven. That was transfiguration... I am sure professor McGonagall here will be able to help you on that... and divination... no surprise here... although you might want to attend some of the classes of our recent addition in our teacher's roster, Firenze. I am sure you will find him... intriguing to say the least. Now, you want to become an Auror, is that right?"
"Yes professor."
"Well, seeing your marks, I say you will need to attend remedial transfiguration and you should be all set. Do you have any further questions?"
"Yes sir, just one." Yannick started "In my former school we were training daily on archery, an old tradition from where we come from. I have brought my things with me," he added, pointing at the long green bag he had taken with him when going out of the train "but I would like to ask first if it is possible for me to continue my training while I am here in Hogwarts. I would hate to loose my skill."
Dumbledore sat back in his chair in his chair thinking.
"I do not really see any problem with this Mr. Silverleaf, on one condition only. I trust that you can take the metallic point off the arrow's shaft?"
Yannick nodded
"As long as your arrows have no points which could harm one of my students, I do not see any problems with this. A friend of mine used to say that it is better to know other ways of fighting than only with a wand. Well, I guess it is time for us to join the rest of the School in the dinner hall. The first years are on the point of arriving and Professor McGonagall here needs to be there to receive them. I will see you at the feast Mr. Silverleaf and I do hope you enjoy your first year at Hogwarts."
"Thank you sir" Yannick said before turning to follow professor McGonagall out of the room.
He was about to step out of the room when Dumbledore spoke to him one last time.
"Oh, I almost forgot Mr Silverleaf. Our Gameskeeper has asked me to tell you that your companion has well arrived and is right now enjoying himself in the forbidden forest. It is a very nice animal and looks very intelligent. You should present me to it one day."
"I will sir" Yannick answered with a thankful smile, before turning and going out of the room towards the stairs.
*-*-*-*-*-*-*-*-*-*-*-*-*-*
There you have it, first chapter.
Hope it was not too short.
PM me any feedback you have and also, I am undecided as to which house he will be sorted in. I'd apreciate any suggestions you have.

Thanks for reading.


*Wolf*

["Discovery for a new student" © "Wolf" / "17 September 2004"]


Edited by Wolf, 27 September 2011 - 08:55 AM.